Our Mission
Building brighter futures through personalized care
Our Kinship Navigation team is here to walk with you and your family and help you build a brighter future, together. Through our connections to educational resources, community support, and financial assistance, we can help you create the safe space you're willing to create.
Who We Are
We're a team of dedicated, passionate professionals that have a deep love for what we do. Each member of our team has a personal tie and connection to Kinship Care and brings to the table expertise in their field, a deep understanding of your current situation, and unending support to help you actualize your goals.
Why Kinship Matters
With more than 2.7 million children in kinship care situations in the United States alone, there is a pressing need for support and guidance for these unique families. At NCHS, we know that when a crisis occurs, it can often lead to a bigger crisis down the road.
We're here to help meet you in the middle ground, so you can get back on your feet and build toward a brighter future.
How We Can Help
Working to connect you to the support your family needs
Through formal and informal connections, we help you address your immediate needs and create an action plan to meet your future goals. Our team has connections to various support groups filled with people like you so that you can create your own network of peer support. Members of our Kinship Community enjoy access to resources like:
Benefits for Food, Healthcare, and Living Expenses
Classes (Caregiving, Self-Sufficiency, etc.)
Emotional and Mental Health Support
Personal Care Items (Clothing, Hygiene, School Supplies, etc.)
What Happens When You Call
Starting your journey together as a Kinship family
If you're interested in learning more about our Kinship Navigation Program or want to become a member of our community, be sure to first call our toll-free number at 888.315.7347. From there, our team will connect you with the right support and get you started on your journey.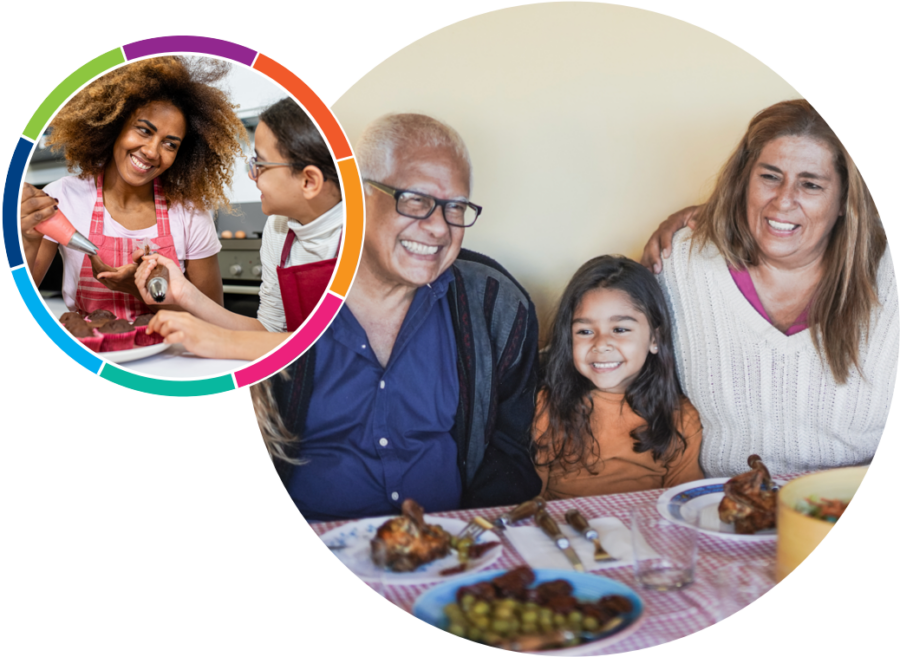 When you call our toll-free number, you'll start the process of becoming a part of our community.
Mandy or one of our other passionate team members, will answer your call and ask a few questions to determine the best kind of support for you and your family.
After the initial conversation, you'll have access to at least 1 of our helpful Kinship Navigation resources, with more to follow soon!
If you're within our service area, within 48 hours, if wanted, you'll be connected to one of our Kinship Navigators to help you complete enroll and start setting goals.
For people outside of the service area, you'll be connected to your local resources (no paperwork or enrollment).
Voluntary Services to Help You Connect and Grow
We're here to help you meet your immediate needs
Our Kinship Navigation Program typically lasts 3-6 months, but this timeline is an average estimate, and there is always room for extension if needed. These services are entirely voluntary and can be stopped or restarted anytime. We understand that you're on a continuous journey, and we encourage you to include us each step of the way.